Read the full story from Madison Startups here.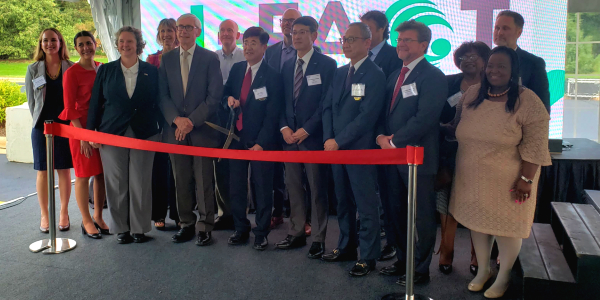 FUJIFILM Cellular Dynamics (FCDI) today unveiled its new 32,000-sq.ft. cell therapeutics facility at 465 Science Dr. that has been named i-FACT (Innovation Facility for Advanced Cell Therapies).
It marked a milestone for FUJIFILM since it acquired Cellular Dynamics in 2015. At the time, FUJIFILM announced it would maintain operations in Madison, which still holds true today.
"We value the strong connections we have built with the city, the university, the state and other partners," FCDI CEO Takeshi Yamamoto said at a ceremony held at University Research Park. "The Madison area is rich in expertise."
In turn, city, state and other officials, including Mayor Satya Rhodes-Conway and BioForward CEO Lisa Johnson, thanked FCDI for keeping its facility in Madison.
"I am impressed as we move science to a higher level," Gov. Tony Evers said. "I am excited that FUJIFILM Cellular Dynamics continues to call Madison home."
Construction for the facility, which will have three independent clean labs, began in March 2018 and will be completed in March 2020.
Dr. James Thomson founded Cellular Dynamics International in 2004. He also expressed gratitude about the company remaining in town.
"The fact that it's in Wisconsin means we'll still be at the forefront," Thomson said. "I think we must expect great things from you."